Sunday, August 31, 2003

Manchester United Lost!...I am so emphatic and glad to hear and know the result
Yeah...the final scoreline was Southampton-1 Manchester United-0! I love you so much Beattie for scoring the only goal in that match and sent Man Utd a message of DEFEAT.

By the way, I am quite satisfied with my performance for today. At the very least, I have started kicking and designing my power point slides for my thesis proposal presentation, though there is still much more to do.

Needless to say, I am having a great time here in my home... I am just enjoying and relaxing, and most importantly biting everything which is edible.

| |eOngBoo made noise at the warung at 8:18 AM
---


Saturday, August 30, 2003

It has always been cooling and cold (at night) in Ipoh since I came back from Petaling Jaya on Thursday night. Making use of the Merdeka Day break, I joined thousands of Klang Valley folks (mostly young working adults and university/college students) travelling back to our respective hometowns; sometimes they call it mass exodus, though I was a bit earlier. Try to avoid the forseen heavy traffic along the PLUS highway.

Fooji: You reached? are flying? will fly? to Negeri Di Bawah Bayu, Sabah. Hey, enjoy man your vacation there! Hope you are able to read this before you are back in Peninsular.

Okies, how about me? What have I done since I was back on Thursday night? Nothing much except been printing my lecture notes, surfing some extra information for my thesis presentation after the Merdeka break, less blogging and embarking in blogs, reading up tutorials, articles, journals and books for my thesis. In fact, my main objective for the weekend is to concentrate and focus on my thesis.

You might be asking? Have I really achieved my objective? Nope really though I did spend a lot of time on it! I didn't go out "yum cha" and windows shopping and eyes washing but I spent 4 and a half hours just now, watching Justice Bao which was shown on TVB8 channel (channel34 of astro). Goodness! Madness!

Come back to my thesis... yeah! what am I doing for my thesis? The title is "Simulation of Quantum Gates"!!! Pretty complicated and complex huh?!?! I extremely, no doubt, feel so! I have been trying very hard indeed to figure out those calculations and algorithms. Phew! It takes effort, focus, concentration of 100% altogether. What a quantum world we are living in?!?!? HAHA...

Fooji has, too highly, looked up upon me, acknowledging me as one of the would be computer experts. Just to be frank, I know a little about computing even though I will be graduating as a UM computer science graduate in just a few months time. Hmmm... my foundation in programming, in C or C++ or Java, has never reached the amateur level yet! And I doubt, will I ever reach? I learned some basic, very very very basic indeed, Visual Basic, HTML, ASP, JavaScript, SQL Server 2000, IIS. I may know a lot on theoritical part (reading journals, forums, books, news, surfing the net) about almost anything in Computer Science. Technology and Engineering, but when when it comes to the technical part (programming or coding or anything else), I am just a mere toddler still learning how to make the first step with my own feet.

To know that I am supposed to know many things, yet I know nothing, I feel nervous and apprehensive. Perhaps, what Fooji always tell me is true... I am still young and raw, experience belum ade lagi... I shall see...

| |eOngBoo made noise at the warung at 10:16 AM
---


Friday, August 29, 2003

Selamat Hari Merdeka, people,

and here's something I must publish in this blog. The paragraphs, below taken from Serabut Inc, did a splendid job of describing Malaysia, and gave an honest overall view of the things to be, and the things now. Please read:

"....So let me tell you a bit about my country. My country is one of the few countries in the world who managed its independence without any bloodshed (yay for historians, boo for filmmakers). Yet, this peace is precarious, as with any place when there's more than one ethnic group. It's not fragile, but it isn't as what the Tourism Ministry made it out to be. On a personal level, sure, but then again, at a personal level, we're all people.

Our society is a relatively happy productive society. My country's people do not wish to see 'rock the boat'; they wish to maintain stability. They keep this harmony by breaking the rules and the law. I suppose that's a paradox, but there you go.

My country is well on its way to progress. But that progress is not matched across all the levels. We have first-world infrastructure with third-world thinking. My country is a cowboy country. A certain genteel lawlessness rules the land, and it all depends on who you know.

My country has the most amazing people in it. Truly inspiring beautiful people, who flourished, despite being ignored. My countrymen makes me proud. But the achievements that I'm truly proud of is continually being overshadowed by people who went all out to make idiotic records, which is all fine and good, but how do THEY benefit the country exactly?

My country has an inferiority complex. It took a wrong turn and bought the wrong kind of mirror. It's better than it knows, and tackier than it should. It is well-respected in many areas and rightly so, but my country also tend to go around screaming 'Look at me! Look at me! Aren't i something?'

My country sometimes forgets the little people, so blinded it is by the its mammoth pet projects.

My country is blessed. It sits at an advantageous spot between two trading routes and with a tropical climate and plenty of treasures. My country escaped the Pacific Ring of Fire and is not located on any tectonic faults. No hurricanes pass us by, nor typhoons make its presence felt. Maybe because of this lack of natural disasters that my country is riddled by many vanity projects that would tumble should a tremor even kiss this graced land.

My country has a multitude of people, of races, of variety, and of blood. But for many, my country do not recognise them, preferring to see the past and forget these children of this land have known no other place that they can call home.

In one thing my country is truly remarkable in its unity: in its food. My country loves food, embraces it, indulges it, yet never overtaken by it. My country is pungent, my country is sweet, my country is bitter, my country's taste will never leave my tongue.

My country is Malaysia, and Malaysia is home.

*Kiss* Happy 46th (pretty soon!) you silly old coot...."

Nina - Serabut Inc






| |fooji made noise at the warung at 4:39 PM
---


Thursday, August 28, 2003

Tai Go Jai Lo: Pat Yip, jek hai Sat Yip

We have said it many times. But yet, the fact still keeps staring at us.

The fact, most of us would be graduating next year, with the prospect of 'menganggur' (Teong says)

Li Yien, Fern, E-lin would get their B.Sc's. Teong, KarKin, Koy Yee,Chee Wyai, etc would be officially computer experts. Wai Kean, Ah Yat would be one of the UTP pioneers. Meanwhile, Ah Kai and Kay Keat had already graduated this year, and both found a good job as an engineer.

Well, the people in the healthcare sector belum lagi. But the tide and waves is already changing. Kah Jin would leave for Scotland to finish the MPharm next year. Sze Leng would also be going abroad by early next year, while the rest of the local gang would be having tight ward schedules, and renewed and enhanced pressure.

Looks like the dynamics and the bonding of these Ipoh Tauges would take a new twist, and restructuring ? Anyway, this is definitely a sign that we have aged, my dear friends. Getting thrown into the Grown-ups/working adults category.

What can we do? Sit back and enjoy the transition.........



| |fooji made noise at the warung at 6:38 PM
---


Wednesday, August 27, 2003

If you are an Internet Explorer user, and you are bugged by the debugging feature, whenever there is a runtime error, here's what Intech has offered as a solution.

1) Go to Tools
2) Select Advance
3) Then click on Disable debugging script...

voila, no more stupid debugging offers ...


| |fooji made noise at the warung at 8:55 PM
---
Thank God they did not ban Bruce Almighty

Wow, I enjoyed this movie, I think this movie, despite some of the repeated jokes, has substance. Maybe others find it to be just another comedy, but I think this is pretty much a good religious movie. Bruce Almighty basically uses the concept of God from the Christian point of view. I recommend it to anyone who appreciates God.

Quite contrary to what Abdul Hamid thinks, I think Bruce Almighty is a movie that honors God, in a sorta way. It talks about free will, and make us realise how our ways and thoughts can never be higher than the Almighty. How merciful God is to us, despite sometimes, we may not be aware of his presence, and demands more clear-cut intervention.

And we see Bruce, being aware of his God powers, used it for his own interests, and caused side effects that make the people around him suffer and go berserk. And here, we realise how unselfish the real God is.

Of course, God is omnipresent and omnipotent, and in this movie, it simply means that He manifest Himself as someone that looks like Morgan Freeman, a black man. He can be anyone, anything, he chooses. It is just a physical manifestation. He has no definite, lowly, human body..isn't it?

Currently, I have not been in the comfortable zone to be on the receiving end of preachy pastors and over-zealous Christians. It can be tiring. And I find it refreshing to see non-Christian's perspective of the Almighty, just like(I presume) the movie Bruce Almighty, and the very good blog, The Freudian Spit. It is encouraging, it reminds why I believe in the first place.

Thoughts: Parting the red soup(red sea) is only magic, but a single mom with 3 kids who needs to work still has the time to take her kids to their favourite football matches is a miracle.

p/s: And you know what, there was this scene where Morgan Freeman was supposed to say, "I am God" with the subtitles showing, "Aku adalah Tuhan", and the line was MUTED, just like how they muted "FUCK" and "ASSHOLE" in other movies. This is really ridiculous, to equate "I am God" with vulgarities. Of course, there are points to say why it is not appropriate, but I think it is different from saying FUCK YOU, isn't it?

| |fooji made noise at the warung at 2:55 AM
---


Monday, August 25, 2003

they call me cikgu

I am very blessed to have made the right choice during my post-STPM vacation 2 years ago.

I quit my telemarketing job(i do not know what on earth made me take up the job in the first place) and joined the marvellous teaching team at New Horizons as a volunteer. New Horizons is an early intervention centre for children with learning disabilities, now operating at two centres in Canning Garden and Pengkalan, Ipoh.

My time spent there gave me a new perspective of children with Down's, autism, and other peculiarities. I am just like anyone else who is new to these children, not knowing how to respond and react to them. But gradually, their sweetness, their smiles, their response to your reach gives you that warm fuzzy feeling, - deep down you know you are blessed with their company. I could feel my heart smiling, every time the children or their parents call me 'cikgu'.

This time around, for my 2 month-long break back in Ipoh, I rejoined the team as a volunteer again, twice a week. Thanks to the teachers, I get to teach some of the children again. Some are new students I have just met, and some I had known since 2 years ago. Seeing how much they have improved, and their happy faces when they see me, wow.. that is really really nice. The admirable parents too - they make me smile.

As one can see, I am the one on the receiving end, isn't it? I want to help, but in return, they are the ones who give me satisfaction, and refined wisdom. Truly, the experience enriches me.

I am but a small-time volunteer with so much yet to learn about special education. One of my co-workers Ennie were even greater inspired by them, that she has now moved on to a course in Speech Science in UKM.(Currently in 2nd year)

Upon graduation, she would be dealing with children with speech problems, and of course, it would be a very meaningful career. She has written down a lot about her experiences with the children, some of which she has decided to share with us, via a newly created blog - Up-side DownS. Hah, she's not really into blogging, but the thoughts are just too good to be stored in her journal alone. Visit the blog, and let her be further inspired to write more.


| |fooji made noise at the warung at 6:05 AM
---


Sunday, August 24, 2003

Of gangsters and residential schools - according to Dr M

I remember writing essays on gangsterism for my Pengajian Am's Laras Sastera. At that time, all we can write was pointing out the factors and the langkah-langkah to rectify this problem.

Forward 3 years, this issue has a new breath of life, this time, we even have Dr M commenting about it. And the comment's rather silly, read what he was quoted in NST today,:
"In my opinion, there are too many foreign films associated with sex and violence. Isn't there any other other kind of films? Everything is to do with sex and violence. Terminator this, terminator that, shooting and killings. And this is not happenning only in Malaysia. I met an ambassador from Japan recently and he told me it was no different in his history." - He said this when asked what he thought were among the factors contributing to increasing cases of gangsterism in schools.

Just observe how many unsubstantiated remarks he has made:
1) Are we still in the katak mentality of blaming foreign movies? Do we need such movies to corrupt our minds? I wonder who taught our datuk to rape their own grandchildren - foreign films? Is the media really that influential, that every bad thing must be its fault? I think foreign films, despite its rather more daring scenes, has more messages and morals in its content compared to the local Yusof Haslam's films. Give me Terminator anyday if I have to choose between it and that stupid Gerak Khas.

2) What problem does Mahathir has with Terminator? Has he watched the entire movie? I am no big fan of that Arnold's saga, but at least this movie tries to provoke our thoughts about future, and fate. And this movie isn't that violent, and so far, I do not think there is any sex scenes.

3) Japan? Please, Japan definitely has problems, but not because of foreign films. Japan is itself a leading sex industry force, and an admirable manufacturer of hentai and other adult materials. Do they need foreign influence to add to their taste for sex and violence?

Anyway, I had been to the now infamous STAR in Ipoh, for competitions and interview. I had come across the students. They are friendly and smile to their guests. I am sure there are good students there.

As for the seniors who bullied, do we really need to expel them? And give them no second chance? And do we need to publicise this issue? Bullying in residential schools and colleges is an old problem, that has yet to be resolved.

So far, there is no one wise enough to solve this, I do not know if they even try. But I know, that expulsion doesn't help. Neither does front-page publicity. Go highlight the Perwaja and other corruption cases instead.

| |fooji made noise at the warung at 5:39 AM
---


Wednesday, August 20, 2003

Remember this?

Time: It was the season of Sydney 2000 Olympics

Soundtrack: Man Bai's superb Kau ilhamku

Story: 2 brothers from a kampung, working and saving money for an airfare to Sydney to see their hockey heroes in action in Sydney. They went all the way to KLIA, only to find out that they do not have a passport. In the midst of their disappointment, they bumped into the Malaysian hockey team who on their way to Sydney. They exchanged salutes, and it was worth it in the end for the brothers. Of course, then they went on their way home, asking.."Passport itu apa? Nak duit ke?.." The older brother said,"Tak tau.."

Olympic Ad by Malaysia Airlines.

Who can tell me who is the ad agency responsible for this? Naga DDB? Grey? It is one of the best ad, ever.

And one more thing...


Bring back the glory of the hockey team, yeah !!!

| |fooji made noise at the warung at 8:12 PM
---
Dear Li Mian,

Najah of Malaysiana Digests today posted about Playing By Hearts. Remember I told you about it last week in ICQ? You gotta watch it...may not be able to get it from Uncle Ho, but if you gotta money...buy DVD la.....or get a VCR, I borrow you my tape.


| |fooji made noise at the warung at 1:37 AM
---


Tuesday, August 19, 2003

Donald Duck and Limpy Lim

background story: Deputy Information Minister said the ministry will consider phasing out the "Made-in-Malaysia" ruling that bars foreign-made commercials from being aired on television if there is proof that it is affecting the advertising industry

With the exception of the lousy whitening lotion and other beauty products advertisements, I can proudly say that Malaysian advertising is of world standard. The creative input and the clever utilisation of local culture and its intricacies of our advertising agencies is indeed something to be proud of. It's one thing that our national car is not good enough, but I tell you, local ads are superb. Just take a look at those by Petronas, Tenaga, TV3, and of course those radio ads.

However, Malaysians, like other 3rd world country has a foolish preference for things from the developed world. I am afraid, that with the lifting of the ban on foreign TV ads, you would see more of foreigners in the commercials for Nike, Adidas, Ginvera, etc. Not because they are more effective, it is merely because we are foolishly preferring things from the West and North, supposedly because they are better.

I think with the ban on foreign ads, local talent and production house has been allowed to proliferate tremendously, and you can see the talents we have right now. We have the brains and the colours, it is just that we might not have the superstars as models. We do not have Tiger Woods for Nike, Beckham for Adidas, Britney for Pepsi, etc. ( but then again, NTV7 has been deceptively wise to insert foreign ads in the pretext of showing teasers of future programmes ). But what's the big deal? So what?

I am afraid with the lifting of the ban, the mutinationals would not be willing to spend money on local agencies but stick with those from their home country, thus giving a raw deal for our local agencies.

President of Malaysian Advertisers Association, Shahar Noor said "When we launch a product, we do it globally and we need that synergistic effect that can only happen when we have one commercial of the same nature aired worldwide,"

I beg to differ. Just look how effective Coca-cola, KFC, HSBC ads are as they blend with the local culture. Think: Cubatry. Not all countries is the same. The effect using the same stereotyped stimulant would be mediocre. (Of course, the local Pizza Hut ads still look awkwardly out of place...)

But then again, this is merely the views of an untested former adman wannabe. Maybe Yasmin Ahmad and LimKoKwing has something else to say......

| |fooji made noise at the warung at 4:00 AM
---


Saturday, August 16, 2003

Sambutan Hari Merdeka bermula hari ini, sehingga 16 September

Pada bulan Ogos ini, tentulah tuan Menteri Abdul Kadir agak sibuk dengan persiapan sambutan Hari Merdeka. Bendera Jalur Gemilang dikibarkan sana-sini. Lagu patriotik menjadi video muzik paling hangat di RTM. Ada juga segmen-segmen ringkas yang mengagung-agungkan Dr Mahathir dan bekas-bekas PM.

Pernah sekali Abdul Kadir, seorang peminat bow-tie, merungut bahawa segelintir masyarakat tidak cukup patriotik kerana tidak suka mengibarkan Jalur Gemilang. Begitu juga dengan PM dan Menteri Pendidikan yang melarang mahasiswa mengambil bahagian dalam aktiviti berunsurkan politik dan sosial dan meluahkan bantahan dan tidak puas hati kepada kerajaan. Perbuatan ini dianggap tidak berdisiplin, tidak mengikut undang-undang, dan kesimpulannya, aktivis-aktivis ini dianggap tidak sayang kepada negara. Tidak cukup patriotik.

Begitu jugalah dengan mereka yang dikenakan tindakan ISA, dan sekarang siang malam di Kamunting. Adakah mereka tidak patriotik?

Apa itu patriotisme? Adakah ia didefinisikan sebagai ketaatan kepada kerajaan Barisan Nasional? Adakah mereka yang sanggup berenang berkilo-kilometer, merentas benua atas nama Dr Mahathir dianggap wira negara? Merekalah contoh rakyat yang patriotik? Begitu?

Mereka yang sanggup mengorbankan mangkuk nasi mereka, peluang mereka di menara gading untuk membuat bantahan yang konkrit terhadap kerajaan pula dianggap sebagai unsur kacau dan tidak cinta pada negara? Terus ditarik masuk penjara di Kamunting.

Adakah yang ditahan ISA tidak cintakan negara?

Adakah menteri-menteri yang terima rasuah masih dianggap tokoh? Bukankan perbuatan tamak duit itu boleh diibaratkan sebagai khianat kepada negara? Tapi mereka masih diberi peluang, ada yang masih pegang jawatan sampai jadi naib presiden parti. Tapi yang cukup berani membongkar kesilapan dan ketidakjujuran kerajaan pula akan diancam dengan berbagai-berbagai jenis akta, dari ISA ke OSA ke SB.

Siapa yang patut kita hormati? Siapakah yang masih mendukung maksud kemerdekaan dan kedaulatan?

Adakah barisan kabinet yang berdiri bersama Agong di atas pentas itu semasa perarakan melambangkan yang terbaik and terhormat di Malaysia? Apakah segala yang diucap-ucapkan dan polisi-polisi yang digubal oleh mereka adalah yang terbaik untuk negara, dan apa bentuk bantahan daripada kita bersifat memberontak, menderhaka, dan tidak cintakan negara?

Kita harus ingat, kerajaan adalah institusi pentadbir yang dipilih oleh rakyat. Mereka tidak melambangkan negara - mereka dipertanggungjawabkan untuk mentadbir negara dengan baik, supaya aman makmur. Apabila kerajaan mula menunjukkan tindak-tanduk yang tidak betul, yang penuh kelemahan dan tiada ketelusan, yang penuh penyelewengan, kita sebagai rakyat yang memilih, berhak untuk mengkritik dan mendedahkan perbuatan-perbuatan sedemikian. Ini dilakukan kerana kita patriotik, kita sayang kepada negara, dan kita tidak mahu negara dimundurkan oleh para pentadbir itu.

Kita mungkin berani mengharungi lautan untuk mencipta rekod bagi Malaysia, tetapi kalau kita tidak berani membuat bising bila kerajaan membuat kesilapan, itu bukan patriotisme.

Komen Hari Merdeka - Warung Ikan Bakar 17/8/03

| |fooji made noise at the warung at 10:29 AM
---


Friday, August 15, 2003

There's a new fish on the block

Dengan sukacitanya dimaklumkan bahawa the blogging bug has infected another soul in 6th college. So, here you go folks, an interesting blog by a very interesting person - Fishiology ! Stay tuned....

| |fooji made noise at the warung at 6:43 AM
---


Thursday, August 14, 2003

Crazy old man,
lagged behind with filth
dragged along his feet
across the crowded street.

Dirty old man,
cannot part with filth
lied big to his friends
about the past and now.

Stupid old man,
ruined his own chances
swindled himself to this
Plain lazy and filthy

He never went above.



| |fooji made noise at the warung at 9:21 AM
---


Wednesday, August 13, 2003

Usher syndrome

Ever heard of retinitis pigmentosa? Not many would know. Kumar and Clark doesn't describe it, not even Robbin's Basic Pathology. Only Chandrasoma and Taylor's Concise Pathology was helpful. And of course the very very powerful Google.

What is retinitis pigmentosa?
It is a genetic disease of the retina, where the rod cells (light detection cells) and some of the cone and ganglionic cells are destroyed. Rods are vital for vision in dark areas, to adapt to changing contrast in vision. They are situated normally in the periphery of the retina. This means that the disapperance of them would result in loss of vision of the periphery (tunnel vision) and night blindness. They cannot see in dark and very bright places. The classic feature would be - they can read newspapers but they cannot recognise who is standing in front of them, because they cannot see the whole face. They can read the bus timetable but cannot walk to the bus station on their own. They wear sunglasses when they go out, to counter the brightness.

What then, is Usher syndrome?
Bluntly, I would call it a double disaster. Together with retinitis pigmentosa(RP), one also is also deaf, severely or progressively. It is almost a very cruel sensory impairment. An Usher individual would have to rely on touch and smell to compensate for the loss of two vital sensory. There are people who are born totally deaf, and suffer RP before 10 years of age (Usher type 1), there are those who are born severely deaf, and get RP in their teenage (Type 2), and then there are those who appear normal at birth, and then gradually lose their hearing and vision. (Type 3)

Is it common?
I suppose not. There are support groups and research in the US and UK. I see nothing in Malaysia. The fact that the textbooks does not pay attention to this condition means that it is not very common. And when it's not common, the sufferers would feel isolated, lonely, misunderstood. The public would be less aware about this, and as you can see, because RP is not total loss of vision, one can misunderstand an RP individual for trying to bluff as a blind person. Worse, as Type 3 Ushers are born normal, they lead a normal active lifestyle at first, only to give up the roles and interests and maybe career due to the deterioration of the senses as they age. It can be frustrating, especially when people around them do not offer enough comfort and support.

How is this disease transmitted
It is a genetic disease. Scientists are still trying to document the entire defect in the genes. It involves more than one gene, more than one locus and more than one chromosome. It is an autosomal recessive disease. My father has Type 3 Usher Syndrome. 4 brothers and a sister of his has the same condition. Fortunately, none of their offsprings is found to inherit this disorder. But it is possible - when both parents carries the same gene defect.

Why do I blog about this?
Because I am relieved to have finally find a proper medical explanation to the condition of my father, uncles and aunt. I want to share this information with you people. So when you meet someone who suddenly knock a very visible chair near them, and when you tried to talk to them, they could hardly hear you unless you shout, yet he can read the signboard and recognise Bollywood music, don't dismiss him as a fake or a weirdo, he might be suffering from something called Usher Syndrome.

In conclusion...
No, I didn't join medical school because of this. In fact, I have grown indifferent to this years before. Never one to harbour ultra-high ambitions and aware of one's own limitations, I didn't join medical school because one day, I want to find a cure to my father's and a few of his sibling's condition.

I did not even take initiative to find proper description and documentation of this impairment, never before I tried to talk to my lecturers about it. That was how indifferent I am.

Only till yesterday, I went on a research exercise to find out about this condition, when my father wanted to make a more powerful pair of lenses because he began to not even see the print in the newspaper clearly, since a week ago. The optician was kind, but not understanding of the whole condition, he asked me to bring him to a doctor - but what my father is having is Usher syndrome, a condition that has yet to be countered by a cure. May God bless the scientists involved in the research with a cure.

| |fooji made noise at the warung at 8:55 PM
---
August in every year has been eventful. Thanks to the Merdeka celebrations. I wonder how and what the celebration would climax into this year. Perhaps, with renewed exploration of racial roles and identities and the transition of powers, and the almost routine revelation of foul plays by the government, this year's Merdeka is going to be more than a routine. For those who have always been deeper in their thoughts and have a subtle way of patriotism, it is definitely going to be more than mere routine. It would be a time for recollection and to see how far we have come.

For Anwar Ibrahim, August was the final month he was in office before he got the Mahathir treatment.

For Abdul Kadir, it is a busy month, trying to please his boss and make himself look good with expensive celebrations here and there, and trying to promote MegaSale carnivals everywhere.

For Foo Lee Juin, a Form 2 student, August is a month of exams and that's all about it, most probably she doesn't care much about Merdeka except that it is a holiday, and special TV treats.

For Dr Mahathir, this would be his last time standing there next to Agong, as the Prime Minister of Malaysia.

For me, well, 31st August this year - I'm gonna be in KL Sentral and KLIA, waiting for my flight to Sabah for a one week vacation !! Hooray !!!!

| |fooji made noise at the warung at 7:21 PM
---
Kisah Orang Cina....hah?

Sim Kwang Yang's article - The Chinese Dilemma in Malaysiakini and Lone's article that follows it, is a long needed introductory injection to our Malaysian Chinese social debates.

Indeed, orang-orang cina need a major paradigm shift or risk a dead end, so say Sim and any other insightful Chinese. Here'a list of wrongs and the needed change.

1) Presence of a great number of bodies constitute political strength - this is not merely the wrong understanding of the Chinese, but perhaps the majority race too. This is not democracy at its truest sense. Especially when, I quote "democracy has often degenerated into a tyranny of the majority". As long as the Chinese think along racial lines, the Chinese would stay as the minority. So, the lamenting about the shrinking Chinese population may be a case of barking up the wrong tree. The political status of the Chinese does not lie merely on headcounts. Even if we rise to beyond 30%, would things change? Would the role of MCA change? We are adressing the wrong problem. Furthermore, is it justified to get pregnant and bring lives to this messy world if we are not really ready, but merely to add to the shrinking population?

2) "Dia orang dia punya bisnes lah" - Chinese can be selfish, and conveniently ignorant. They care about their own community, they fret and worry about their own ricebowl, what their neighbours do they don't care. They organise things for themselves. UTAR is a good example of a successful Chinese effort. MCA kept quiet about the quota system, and now the subtle quota system, they prefer to build UTAR. They do it for their own race. This is communal. This is backward. This will bring Malaysia nowhere. Do we even think of fixing the weakness in Malaysia? Do we even care about the corrupt and talent-less politicians in the ruling party? As long as we are okay, what happenned in other races and communities, we don't wanna get involved - that's the policy, isn't it? The government is not going to help us? Never mind, we stick with ourselves, we unite and do things for ourselves. We form support group, we form community group, we serve our own race, we do it for ourselves. We focus on Mandarin and the Chinese culture. Others we just treat like secondary.
So, in the end, the polarisation just go further, isn't it? We will never understand our Indian and Malay friends, and we get more selfish day by day. And the others would not trust us too. Chinese seldom take part in nation-building. They are more interested in Chinese-based development.

3) We pretend, we shut up in other people's land, as long as we cukup makan - Chinese can be hypocrites, a pretentious lot. They dare not openly criticise, but at home, they even teach their children to discriminate. They act like good neighbours, lipservicing those on top of them. So you see Dr Ling always praising Dr Mahathir every now and then. Behind, they hardly teach their children about being Malaysians and racial harmony. It is time to be more open, and to be less pretentious. Effort should be made to recognise our own weaknesses and mistakes, while openly adressing the weaknesses of the others. Nothing could be achieved under a pretentious hood.

Earlier in this blog, I have countered the suggestion by certain people that blame non-Malays for choosing to stay as second-class citizens for voting for the Barisan. I stand by what I wrote, but at the same time, I really agree that we have to move beyond the communal lines. It is sickening, if not suffocating.


| |fooji made noise at the warung at 3:54 AM
---


Tuesday, August 12, 2003

The latest episode of Scrubs - a doctor-sitcom,entitled 'Parents' was wonderful. In the midst of good humor, it deals with certain issues that is so identifiable"-

1) Parents - how we feel about them, and how do we deal with them, and how do we integrate our young adulthood and new career with their presence, and our lack of appreciation for them.

2) Reason for becoming a doctor - Elliot was smart and confident till her boss purposely made her felt bad by making her think whether she took up medicine just because her parents were doctors.

3) The limitations in medical service - indeed, the opening song is rather appropriate - one of the lines says 'I'm no superman....i'm no superman.....', to mean that interns work like mad, but in the end, they do have limitations, cos they are mere human and not supernaturals.

4) The politics and superficial pride of doctors and hospital bosses

For half an hour of fun and humor, and yet to learn so much... it is quality TV for me. Thanks to TV3. For those who'd like to understand doctors, young docs especially, Scrubs is a pretty good watch.



| |fooji made noise at the warung at 8:50 AM
---
W32.Blaster.Worm lurking and encroaching
Microsoft Windows XP and Windows 2000/2003 users have been wondering what has gone wrong with their operating systems these 2 days! Everyone was confused and perplexed. Windows have been reported to crash and restart automatically, regularly! Problems as such are known to have been caused by the Blaster! In fact, Microsoft have been notified of this and immediately produce their latest security patch in order to counter this worm outbreak and threat. This worm has made me thinking a while... the codes of Ipoh Tauges might have had been screwed up by those worms (and their owners)... I am not sure... I suddenly feel that I am having such a shallow knowledge about the overall computing world... though I am calling myself a Computer Science undergraduate... :/

| |eOngBoo made noise at the warung at 7:25 AM
---


Monday, August 11, 2003

Dear Li Mian...

My dad told me earlier in the morning that he had stomach discomfort, no appetite and feel like vomitting.

What do I do? I asked him whether he had diarrhoea, constipation, and the duration of this discomfort. We ate the same thing last night, so it couldn't be due to food. So what else?

I am frustrated when it comes to this, you tried to think but the clues and info given aren't conclusive enough. Studied for 2 years, but still acquire no skills at all. All I can do is ask questions.

So I checked Oxford Handbook of Clinical Medicine (OHCM), ran over the pages of dyspepsia, nausea and vomitting. They discussed mostly about gastritis, gastric ulcer, reflux, blah..blah...I think to myself, so serious meh...?

In the end, I humbly said,"Oi tai yi sang moh? (want to see a doctor?)"

Then he said,"Oh..mou yeh lah...ho lang yau foong...ngo yi ga chut pasak sik yeh..(oh..nothing already...maybe got wind...i'm now going to the pasar for breakfast),"

Ceh........

Anyway, you are right about having made nothing substantial out of the 2 years, it is like we are just getting started. This vacation must involve some serious studying, huh? But where and when do we start? You have your Slam Dunk, I am simply just darn lazy....anyway, Kopitiam yesterday sucked. Dunno whether you watched it, but Ng Ping Ho's original good work is now under overenthusiastic hands.

| |fooji made noise at the warung at 7:14 PM
---


Sunday, August 10, 2003

Dear Pang...

I couldn't help getting wickedly amused with this article from Nuance, NST 10/08/03. Hugo Rifkind, a freelance writer, wrote this superbly funny article for The Times, and reproduced in Nuance. It was tagged True Fiction, now I wonder if it's true or fictitious. If it's just a story for fun, it's a Rifkind's masterpiece. If it is really from Rifkind's recollection while following George Bush in the savanna last month when he was on a goodwill visit to Africa, then Mr President Bush is one dumb superficial American.

I am sorry Pang, but I could not help discrediting your favourite American hero this in this blog. Here's a copy of that article in here:-

******************TRUE FICTION*******************
"I reckon," said the President, leaning forward over the windshield of the green open-topped four-wheel-drive vehicle, "that I oughta call them 'Jacques'. Every single of them."

As the creatures scuttled into the undergrowth, the press aide held his head in his hands. This was turning into a nightmare. They had done the worthy stuff: the boss had grimaced in children's hospitals, gurned at teenage mothers and looked suitably grave outside more sanitation projects, UN wells and HIV clinics than he cared to remember. This was meant to be the easy bit. Bush in the bush. A simple photo op, with one journalist along to note down the great man's rugged, outdoorsy thoughts. It has seemed like a good idea. Really, it had.

"Those are baboons," remarked Nkosi, the driver. "Scavengers. Prefer to run, rather than fight."

The press aide raised his head and shot the journalist a worried frown. "Why," he began, a little too pleasantly, "do you want to call the baboons 'Jacques', sir?"

The President guffawed. "I think old Nkosi just made that perfectly plain. Them monkeys should be munching cheese, am I right?"

"Oh dear," thought the press aide, and watched glumly as the journalist scribbled in his pad.

"Am I right?" repeated the President. "Yes sir,"said the press aide. The President wasn't done. "You got the world out here in the jungle, don'tcha? Look. That piggy over there, struttling around as if he owns the place; that has to be Bob Mugabe in Zimbabwe. And that elephant who could crush him if he wanted to, but doesn't seem too concerned; why, that's Mr Mbeki in South Africa."

"Sir!" hissed the press aide. "Please stop talking."

"Ah, get over yourself,"said the President, carelessly. "See, that wildebeest playin' dead in front of that cheetah? That's Saddam,'cause there's no way of knowing whether he's alive or not. Them vultures circling overhead? The UN, waiting' to pick off what they can. And them other wildebeest sneakin' off into the bushes? Well, that's the Syrians, 'cause whatever they do, they're getting it next. Oh, and over there, those two leopards? They should be Ariel and Yasser, those dudes in the desert who we're giving one more chance. Leopards change their spots, don't they?"

The press aide felt as if he was about to cry. The President continued: "And that lion? He just has to be a Colin."

The press aide and the journalist exchanged glances. "Colin, sir?" said the former, warily.

"Colin," confirmed the President. "After my good friend Colin Powell. Hell, I'll never forget the voice over he did in The Lion King. Damn! Me an' Jenna near blubbed our eyes out when died in that stampede."

The press aide stared at him for a moment. "Colin Powell wasn't in The Lion King, sir," he said eventually. "You may be thinking of James Earl Jones. An actor."

"You mean to say that man isn't in my Administration?"
"Er, no sir. Although he does play an admiral in the Tom Clancy films."

The President whistled through his teeth. "Well, I'll be damned. I thought he was souding kinda croaky. Here! Lookee that reindeer over there!"
"Impala,"murmured Nkosi.
"Whatever. Don't it look like my friend Tony Blair fro Ingleland? With them big eyes and that kinda earnest look? Why he's a cutie feller, isn't he? Nkosi, hand me that there rifle."

The gunshot rang out across the savanna. "Darn it! Lookit him limping away. I feel bad now. To think that there were Jacques and Saddams and Syrians everywhere, and I ahd to go shooting a Tony. You think I hurt him bad?"

The press aide squinted into the undergrowth. "I'm afraid so, Mr President," he said.

"He won't last long now." - The Times

*******************TRUE FICTION************************


| |fooji made noise at the warung at 6:23 PM
---
Dear Teong...

Have you watched any Hong Kong movies lately? Last wednesday, I watched 2 within 12 hours. And, it was tiring. I tried hard to appreciate it, but unfortunately, the directors of both shows has succumbed to brainless violence and unbelievable storyline. The fact that the Hong Kong producers are proud of these shows, and market them heavily in Malaysia is even sadder.

Heroic Duo
Leon Lai Ming can act, so can Ekin Cheng, Karena Lam and of course, the amusing and cunning Francis Ng. The talents are there, the money is there too. But the story flow and the directing kind of suck.


The background combo story of hypnotism, betrayal and underworld dealings could make a very good Hong Kong movie. But too bad, just like most Hong Kong productions, it was too impulsive, no attention to details, language, and ended up being ridiculous than impressive.


The climax of the movie was horrible. It tried to look realistically cruel, and tried to end with a high note about the greatness of love, but...it leaves the audience with an impatient butt to leave the cinema. It was a great waste of talent, and money, only Raymond Wong was effective as a useless Hong Kong top cop.


The Colour of the Truth
The trailer cheated me to believe that it would be as good as Infernal Affairs. With the great cast of Anthony Wong, Jordan Chan and Patrick Tse-Yin, it promises to be good, isn't it?


But too bad, I did not realise that this movie is written and directed by Wong-Jing, the Hong Kong movie-maker notorious for brainless, over action-packed, and tastelessly ham-sap films like Tricky King, Naked Weapon and of course, many Category 3 movies.


Still, the first half of the film was not too bad, the silliness of Wong Jing's directing and ideas are not that conspicous yet, but alas, reality and limitations of his skills and imagination caught up with him in the final half, with the story gone very wrong, and very annoying.


The action and shooting scene were well choreographed, but rather ridiculous. The mystery over the murder in the beginning failed to twist anything in the end. And you should see the scene where Jordan Chan's character was playing three types of chess simultaneously with grandmasters of the games, blindfolded. Come on, are we supposed to be impressed witht Wong Jing's effort to show how smart the character is? And I am not even going to talk about why an African-type soundtrack is used for an action Hong Kong movie. The director meant well, but don't they realise the effect was bad?


Again, like Heroic Duo, it was a waste of talents, money, and heavy marketing. Sigh, maybe I should not expect any goodies from Hong Kong in the near future, huh? After all, if they could award Stephen Chow and his Shaolin Soccer with best director and best picture, there isn't much to be desired about Hong Kong movies.


And you know what, the fact that these movies can sell so well in Malaysia compared to our local movie,Paloh which is so much better in story quality, means that the movie-going community here is of little taste and still a sucker for cheap thrills. Sigh...



| |fooji made noise at the warung at 6:08 AM
---


Friday, August 08, 2003

Fooji : I am just waiting to read your final blog from Ibnu Sina College before you leave for our beloved hometown, Ipoh, land of mountains and fresh cooling water. May God bless you in your journey back to Ipoh and grant you a fruitful and eventful break (though you might already be in Ipoh when you are reading this). And...errr...nothing much to say...I am going to feel like losing a companion in UM...
Take care, bro!

| |eOngBoo made noise at the warung at 8:28 PM
---
Dear Kavetha,

So, how is the air in Pengkalan Hulu ? Refreshing or is it wheezing-inducing already? Today, over here, would be my last day in 6th college, as the H-block which has witnessed all our pranks, our most embarassing moments, and our most studious times has yet to see a return of water supply. Wearing my boxers and with my eyes still squinty like MaoZedong, I have to walk all the way to B-Block early in the morning.

Looks like my extra 2 days here had not been as fruitful as I thought. My plans to visit my cousins and aunt in Cheras was already scrapped before you even leave. I was packing so slowly, and time moving so fast, I have no time to catch up with "Band of Brothers". I guess I have to wait till next year?

You should see the look of Chee Hoong's face when I passed him the super-nice berryls. You were really thoughtful. You should see the about-turn of him to being utterly pleased. He is just so funny with his innocent display of feelings. He is really basically a nice guy, with too much a straightfowardness that can be unpleasing, huh? I'm gonna miss him, anyhow. I bet he'll miss me too !

You should see how I dragged my 3 weeks worth of laundry to the washing machine at 1.35 am, with Pang's 2 one ringgit coins that I loaned from his cupboard. I was really lucky. I was taking my chances - water supply is in question, and there's only one machine available, and I did it! What satisfaction and relief! But at the expense of a good sleep lah.

H-block looks depressingly empty. It was our headquarters for preclinical training, and now our rooms are reduced to mere four-walls with empty cupboards and empty table. Sigh, and I thought the post-exam's feeling would be wonderful, it turns out just like how I felt back then in Form 6. I miss all the friends, man ! Only Shawin and Malai is still here. But then, all 3 of us are busy packing or finding water or meeting friends.

Anyway, it would be a challenge for me to spend quality time in Ipoh. I plan to learn Mandarin properly, read up books I have left abandoned half-way, and of course, refresh myself on the basic sciences and learn up the exam techniques. At the same time, trying to avoid putting on weight and getting prepared for Kinabalu. You think boleh ke ?

May God bless me, yeah ! You take care too, and have a great time in Sarawak, and I'll see you in the KK airport, yeah !!

Life is indescribable, it takes so many odds and kebarangkalian to reach where we are right now, to go where we want to go tomorrow. Simply amazing.

Chee Hoe


| |fooji made noise at the warung at 7:00 PM
---


Wednesday, August 06, 2003

I was reading the headlines of Malaysiakini and from one of the many links, I found myself embarking in the website of Selangor Daily. I am rather sure, though not 100%, that this site belongs to Selangor UMNO. OK, what's so interesting about this anyway. Yeah, as you can see and observe on the homepage of the site, almost all the articles or "stories" are related to condemming PAS. It is like they are actually pointing out each and every drawback of PAS. I am not a PAS supporter but I certainly feel that if UMNO are heading towards the right track, they should be concentrating on more social issues (concerning not only the Malays but also other races in Selangor), which is the actual and true way of berpolitik, instead of tongue-fighting and debating with PAS. Shouldn't Selangor Daily be focussing on the development in Selangor, primarily? What the heck they have to deal with the pembalakan issue in Terengganu? Ponder...

posted by Teong


sembang kat warung: Bukannya apa Teong, kalau PAS salah, patut cakap juga. Tapi yang cakap tu biarlah yang bersih punya. Kalau sendiri pun hitam macam arang, cakap orang lain buat apa. Tak malu ke? Tengoklah masalah MPPJ dan MPK dan sebagainya...wahai UMNO Selangor - periksalah diri dulu. Balak kat mata sendiri tak nampak, pasir kat mata orang lain, nampak jelas....hai.....

| |fooji made noise at the warung at 10:29 PM
---
I apologise for the mistake

Indeed, blogging is getting interesting day by day. No wonder I am even actively on it in the midst of my final exams. This blog has been serving me well in my shameless outbursts.

However, looks like my latest outburst has backfired. I made a boo-boo in my previous entry, titled "Dengue in the city, in a health campus - Good job, Minister Chua JM". Apparently, I have forgotten what Puan Noraishah and Encik Rajendran taught me about the constitutional separation of powers between the federal and local authorities. It is my mistake to wrongly make an impression that the Ministry of Health and Minister Chua JM is to be blamed for the dengue outbreak in Kolej Tun Syed Nasir, KL. Also, the dengue outbreak has yet to be confirmed.

I thank Dr Azmi Mohd Tamil who enlightened me on this. Thank you also for your kindness in telling me about ignorance and blogging.

However, I am rather worried that the dengue control in KL, Petaling Jaya, Subang Jaya. etc is to be entirely under the local authorities. Even if it is, shouldn't the Ministry be concerned about the high number of cases and also the lack of effectiveness of dengue control so far?

Maybe the local authorities only know the best way to do it is to fog endlessly. Spraying many ringgits of mosquito-poison around the high risk area. Is that all we can do? Isn't the Department of Communicable Diseases concerned? Isn't dengue a notifiable disease ? If it is, the rising number should be alarming, isn't ?

But then again, I may not see the bigger picture here, due to my ignorance and biasedness against Minister Chua.

I apologise for the mistake, but my disappointment with the MOH continues.

Thank you again Dr Azmi. While we are still at it, do you know anything about a rule that the Health Minister should not be a doctor? Is there such a thing? Please enlighten me.

Now, let me proceed to my next point of argument, and I welcome correction if I make a boo-boo again. Dengue control may be under the jurisdiction of local authorities, and with that, I understand it as routine control exercise like fogging, cleanliness spot-check, imposing fine for this and that. But would it be the same if dengue is considered as an outbreak, as in really an outbreak? In the same league as our not-so-old friend, SARS ? If I remember clearly, SARS was so serious, so many people was so unnessarily panicky over it, and MOH was very much in control. So, if dengue is treated like SARS, shouldn't now the Ministry move into the picture, including in areas under the local authorities? SARS control was all about MOH. Why not dengue? I am sure Minister Ong KT would be ready to help Minister Chua JM.

I am not complaining, not trying to paint a bad picture on anyone. I am merely suggesting. After all, dengue fever bukan main-main.

| |fooji made noise at the warung at 5:58 AM
---


Monday, August 04, 2003

Latest update: This entry tak boleh pakai, the facts are inaccurate and wrongly lay the blame on MOH and the Minister.

Dengue in the city, in a health campus - Good job, Minister Chua JM !

My close friend Ennie, who is studying Speech Science in UKM (KL Branch) sent me an email today. Well, that's how we keep in touch. Now, she told me some time ago, that most of her collegemates in UKM residential college (near Tasik Titiwangsa) had dengue fever. " 8 out of 10 in random would kena before," she said. I didn't quite believe.

Again, in her email, part of it goes like this: "Having a flu now. Tough luck la. Got sick only when I got back to KL. But it's not too bad la. Only cough and running nose. When people found out that I'm sick, the first thing they ask is "Got fever?" Luckily no. The reason is because dengue is raging in my kolej. Many have fallen prey to dengue. HKL beds are being occupied by mostly UKM students. Though they fog quite frequently, but still many are hospitalised. And they can't sit for their exam..."





This is just awefully alarming ! To me with a little bit of microbiology and preventive medicine training, we should be declaring war in that college by now. These are young adults, studying with hectic schedules and important exams to sit for, and really the dengue virus is a nuisance, and it is ridiculous for a health campus to have a dengue problem. If medical and health science students also kena like that, what about the public ? Habislah ?

Dengue fever is no play-play. It can lead to hemorrhagic shock, and then death. In a dormitory set-up, where there is bound to be crowding of people, infections like this can spread. Nasib baik, it cannot spread via contact or respiratory droplets, if not, the whole college would be an epidemic war-zone.

And we have the Ministry of Health who still refuse to recognise dengue as an epidemic. Talk about DENIAL ! I think the Malaysian government is the champion of denial and cover-ups.

Fogging the place, is of limited use. There is a need for proper vector control, not just fogging, but something more big-scale. And I do not mean expensive Anti-Denggi ads on TV and newspapers.


I just want to 'congratulate' Minister Chua JM for doing a good job in putting us at risk for dengue fever. Do you want to wait for some UKM students or anyone important to die of dengue before you address this epidemic, seriously ?

Further reading:
1) Dengue in Malaysia -WHO
2) Chua JM missed the global dengue Alert
3) Chua JM does not have the courage of conviction
4) Dengue deadlier than SARS- Chua JM should be censured
5) Don't let it get to You !

| |fooji made noise at the warung at 11:45 PM
---


Sunday, August 03, 2003

I find this disturbing.....

RPK's statement : - " Are the non-Malays happy with this situation? You like being second-class citizens? If so then tell us, and we shall drop this equality for all races and Malaysian race issue. If you feel you are getting a better deal under the BN government, then so be it. But please don't scream about apartheid
Malaysian-style if you vote the BN into power and, in the process, demolish Keadilan, your only hope of equal status in the country you were born in. If
you vote BN, then you deserve what you get - second-class citizenship."

from HERE- msg7024

RPK perhaps has a rather stretched political acuity and sensitivities. Does he really understand the motive and aspirations of a Non-Malay voter? In the 1999 elections, the Chinese supported BN because DAP was aligned with PAS. Do you think Non-Muslims should vote for PAS instead of BN ? No way !

I think this is harsh, it is like catching non-Malays in a room with no exit door - to say that "If you vote BN, then you deserve what you get - second-class citizenship." Perhaps, genuine political observers can answer to RPK properly. Maybe Prof Khoo Kay Khim can comment better.

I am still a raw amateur person when it comes to politics, but I KNOW that it is not that easy to abolish the second-class citizenship , just by outvoting BN, and vote for Keadilan.

Has Keadilan proven itself anyway? ARE you guys really serious about the FAIRNESS and NON-RACIAL thingy?
With half the population of Malays still subscribing to the doctrine of UMNO, even though they may not support UMNO ( think about this..), I do not think the Non-Malays should be blamed for not doing anything about the bumiputera special rights.

I think RPK statement is irresponsible and insensitive. Put yourself in the shoe of a Chinese or an Indian before you give sweeping statements like that. I am not even a BN supporter, you can tell that if you read my blog, but I do not criticise those who vote for BN. Understand where they are coming from.

There is really a lack of choice. Compared to PAS, BN seems a much better choice.

But then again, all this is because our country lacks real, talented politicians.

Non-Malays are a minority. Do you think we CAN change Malaysia ? No ! We can help, but the responsibility and the Button does not lie with us. The 70% of Malays that you mention, they voted not only for KeAdilan, but also for PAS. And that the Non-Malays cannot agree.



| |fooji made noise at the warung at 10:12 PM
---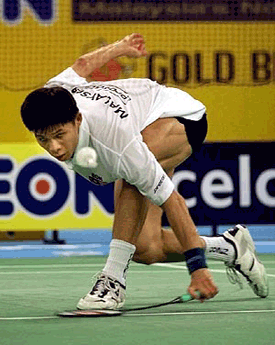 Thanks for a good show, Choong Hann !

Last night in my residential college, after that wah-lau crash in Hockenheim F1, everyone settled down, and some of us are studying last minute for our paper today.

Suddenly at about 10 pm, my floor broke the silence in the college with roars of cheers and laughters, and boo. It turned out that my neighbour's TV is broadcasting live the final match between Choong Hann and the Chinese player, XuanZe. So many of us were in the room.

At that time, Choong Hann raced from behind to grab the second game, forcing a rubber game. It was a spectacular play by him. And momentarily, it truly felt Malaysian. You see my Malay neighbours cheering wholeheartedly for a Malaysian Chinese. And in my neighbour's room, it was filled with floormates of all races and jokingly criticise the Chinese player. Hey, this kind of thing only happens in sports.

That's why sports in Malaysia really have a national role to play. If only the football and hockey team could give us more opportunities to cheer together. With their current state of performance, how could we cheer?

Anyway, it's a nice feeling, yeah. And thanks to Choong Hann for giving us a good time.



| |fooji made noise at the warung at 9:47 PM
---


Saturday, August 02, 2003

Meaningless fight

Things I forgot
Things I misjudged
Things I abhorred
Things I adored
Things I ignored
Things I cherished

In the end
everything's
the same thing

Life is indescribable, so seek Him first !

| |fooji made noise at the warung at 11:12 PM
---
This is something worth reading - Ketuanan Melayu and Malaysia's Future - Sharizal, Perpetual Permutating Perceptions.

Quote of the week:

Current Malaysia; in limbo, janji everything jalan, not to appease particular section of community too much and appease everybody in general (i.e. make everyone relatively comfortable)

| |fooji made noise at the warung at 11:09 PM
---
Sigh......

Exam is next Monday. Everything should be okay.
August is still new, but there's a new isu hangat, already. Thanks to Aizuddin, Jeff and Suresh, I am enlightened about this.

Please read here for the background story:
1)Keadilan, we have a problem - Aizuddin
2)The RPK Email - Storm in the teacup or sign of worse to come? - Suresh,SuaraMalaysia
3)RPK, is this truly you?-Jeff OOi

I had thought about blogging something about Malaysia's RACISM from one experience not too long ago, but I decided against it because, why bring up something so serious ? But since this RPK thingy has surfaced, I feel like talking about it.

A few weeks back, my residential college administration ran an evaluation exercise, asking us to fill up forms ( pasted on our door ) to evaluate the college facilities and accomodation. We have to fill up our Jantina........, Tahun.......Kursus.......Bangsa...........

I felt patriotic that day, and I am tired of having to identify ourselves according to ethnicity. (what difference would it make? Would there be any form of discrimination if I were a Sino and not a Malay? We have been filling up that BANGSA/KAUM blank for so many times since standard 1).

So I wrote Bangsa Malaysia. I also encourage some of my neighbours to write the same thing. Not Bangsa India, Bangsa Cina, not Bangsa Melayu, but Bangsa Malaysia.

But then, my two neighbours next door instead wrote this: Bangsa Melayu,(at least saya tak hipokrit...)

I felt the pinch, man. Seriously. My wild, naive, childish effort for some Malaysian spirit was dismissed like air longkang. But I am not angry with them. We have always been on talking terms, and have no grudge with each other. Although I am hurt, but I do not think they were being harsh. Maybe they are being honest. Racial integration? Are we serious? I was, I was being optimistic, but is UMNO ? Is our Parliament? Are the Sultans for genuine integration ?
My neighbour was right, at least he was not being a hypocrite. Most of the Chinese in my college are a racist lot. They do things on a communal basis. They sit with their own skin colour. Most do. It is the same for the Indians and some of the Malays.

So what really is the BIG Deal about RPK's racist email ? Parti KeAdilan may have been googoogaga about JUSTICE and FAIRNESS, but come on, are they really serious? Like what Farish Noor said, the Permatang Pauh declaration was excellent, but are they really SERIOUS ? Isn't the justice for Anwar Ibrahim the core of the motivation? Not FAIRNESS, and of course, not FAIRNESS for all.

The doctrine of Malay domination was preached by Mahathir himself in The Malay Dilemma. Today he is the PM, and the UMNO President. So, isn't this doctrine the doctrine of UMNO, the doctrine of the Malaysian government ?

We non-Malays accept it. We are coping with it. We know. We understand(I hope). It is alright, I guess.

Of course, it would be nice for one day, we really have a non-racial environment. Aizuddin, Sharizal , etc may be the very few who really see this worth fighting for. Isn't more than half of the population still subscribe to the UMNO doctrine ?

So, RPK's email may nullify KeAdilan's idealistic aim, but to me, it is nothing new. But it is okay, seriously.

| |fooji made noise at the warung at 5:10 AM
---