Monday, January 31, 2005

Warung fiction 8

Breaking News 1 :- Latest study by the University of WIB, Faculty of Biomedical Sciences has discovered that pigs can actually fly.

Breaking News 2: - Badawee announced that the national service programme would be terminated for the purpose of diverting the allocated annual RM 500 million for increasing government doctor's salary.

"We realised that NS was and always would be a stupid idea, conceived by a retiring megalomaniac as his swansong after 22 years. And my dear doctors in the government, they have suffered much, and it is time to give them a break. The increment is not very much, but we are trying...we are trying," he commented.

When asked how much an increase a government doctor would receive, he said, "You kiralah!"

We counted, and here it is:-

no.govt docs=x
increment /year=500 000 000/x

monthly increment=500 000 000/12x

katakan x= 20 000

monthly increment for doctors = RM 2083

Hip, hip, hip hooray..... if the pigs really can fly

| |fooji made noise at the warung at 11:38 PM
---
Alternative W.I.B blog site

Maybe I sound defeatist, although JackSaid proposed we do something about UM banning blogspot site which I would agree about, this is a short-term solution to the problem.

Here's a mirror site of Warung Ikan Bakar.

http://fooji.tblog.com


| |fooji made noise at the warung at 3:56 AM
---
Planned Milestones for the future: Medical students - a last-minute survey

Pang HC's
24 y.o - Final year
26 - Try to leave Bolehland, Study, Study
30 - Apply for Master's, Study, Study
35 - Finally got Master's
40 - Try again to leave Bolehland,study, study, study
44 - Look for job
- Play shares
- Find money to open clinic
- Lose money in share market
50 - call OBT/FCH to lend money
- Try to leave Bolehland again
60 - meet Jesus (in Bolehland)

Fooji's
24 - Final year
26 - 30 - internship, MRCP or GP
- remain in govt service
- open ikan bakar stall as side-income
35 - acquisition of property, family
40 - may go private, depends on money and offer
50 - must leave govt service - no more working for money
60 - meet Jesus

Piow's
25 - grad
28 - MO
29 - enter MCA
30 - branch chairman,visited Jackie Chan, Ong Ka Ting in prison
33 - stand for election
- ADUN Johor
40 - go federal, attended Ling Liong Sik's funeral (seat in first row)
45 - bought datukship from Johor, denied TanSri-ship
43 - MCA chairman, Minister of Health, set up MCA medical school
45 - Meet Pang in Parliament, also in MCA
60 - die of lung-cancer (squamous cell), donate body to MCA medical school

Kelvin's
25 - try to graduate
- try to find girlfriend
30 - MRCP/Master?
- Get married
40 - Go private practice
- Mid-life crisis
50 - Become a millionaire after discovering new slimming pill, offered himself as
Before and After model.
60 - go to Hell, say Hi to Piow

Gibran's
25 - graduate
26 - MRCP/MRCS?
- govt practice
35 - leave govt practoce
45 - open own hospital
50 - own medical empire, employ Fooji and Pang
51- buy datukship
60 - die as a datuk, try to buy his way to Heaven

Pravin's
24 - Rot in lecture hall
26 - Houseman
32 - Finally chuck govt service after serving under Mohd.Fahmy for 6 months
34 - Get morbidly depressed, die of chronic liver disease, after vomitting blood.
- Last request to be buried next to fallen fellow comrades, Siva, Ruben, Shawin, Annamalai, et al.

King's
25 - Graduate and get married
28 - have children
30 - financial independent, become govt GP
35 - become a doctor for charity
45 - explored the whole world
60 - meet Jesus

Compare this -
Planned Milestones for the future: IT Professionals

Ian's
22 - grad, work in IT firm
22.5 - travelled the whole of Asia
23 - bought car, promoted as consultant
30 - buy house and have 4 children, set up own firm
40 - employ new workers, set up 14th branch
50 - retire, live in Switzerland, travel around the world]
60 - offers Pang a job, then laugh, and meet Jesus

Teong's
23-Grad, work in IT firm
24-went to Germany
30 - beautiful wife, beautiful car, semi-D
35 - beautiful 2nd wife,something like Nobel, Stanford University, Silicon Valley, MBA from
Wharton, UNDP...new company, beautiful mansion, 8 beautiful cars
40- company bought by Microsoft, got damn rich, retired
40-60 - dunno what to do
60 - meet Jesus

| |fooji made noise at the warung at 2:34 AM
---


Saturday, January 29, 2005

Boys don't cry
They laugh, they smile,
They bang and get drunk,
crash cars on trunks,
and get topless under the sun.

But seriously,
Boy don't cry,
They shout and curse,
But never do they cry,
For tears to well up in their eyes,
No, they're just too shy.

The boys won't cry,
They said this as they looked at the sky,
"Oh yeah I will cry,
When I see 4 pigs fly!!!"

| |fooji made noise at the warung at 5:03 AM
---


Friday, January 28, 2005

It was 2pm. He finally woke up from the sweaty, and miserable sleep. "I'll not sleep in the afternoon again," thought.

"Section 17 today a bit weird. No shop open. No food. If you want to eat, walk to 7-11," Khai said.

He said,"You buy for me, can ?"

"What do you want?"

"The mihun they normally sell."

"Aiyo, that one ah? Stupid, not nice one la..."

"Then what is nice?"

"Twisties, or Roller Coasters."

"Stupid."

"Then what you want?"

"The mihun."

"Stupid."

| |fooji made noise at the warung at 1:59 AM
---


Thursday, January 27, 2005

It was 6am. He tried hard to hear the rooster, but there was none. He was after all in the corner of Salak South. He gave up writing some good opening for his undecided empty novel. "F**k novels," he said decidedly, "I'll just collect short conversations like these."
He took back the discarded, crushed pieces from the black plastic bag, and decided to write another one before nasi lemak.

Hujan sedang turun. Tidak lebat tetapi pasti basah tanpa payung. Lee sudah mahu pergi lalu mencari payungnya.

Rina nampak payung itu dahulu dan dengan pantasnya mengambilnya lalu cuba menyorokkannya di belakang badan.

'Sayang, bagilah payung tu...'Lee bersuara dengan perlahan sekali, seperti kucing yang manja.

'Tunggu sekejaplah, bang...'

'Mengapa?'

'Kerana hujan masih renyai, kanda...'

'Lah...saya dah lambat ni..nanti kedai takda orang jaga,'

'Tunggulah sekekap, bang...tunggulah sekejap dalam pelukan asmaraku.'

'Hah?'

'Tunggulah sekejap, kerana malam ini belum puas bercumbu dengan kanda'

'Lah ina....saya memang kena pergi la ni. Malam ni baru kita sambung lagu P.Ramlee, okay?'

'Tak syokla dengan abang ni. Lagu Jac la...'

'La...dulu itu lagu P.Ramlee la.'

| |fooji made noise at the warung at 6:35 PM
---


Wednesday, January 26, 2005

It was 5:30am. He was back at square one again. The second story sucked too. Two more days to write.

"Maybe I should just write porn," he thought,"or maybe I should give up and learn baking cakes, or direct sales...nah, maybe not."

He put down the black pen and picked up the red one, and started writing again.

"You know how to build boats?" Ravee asked his dad.

The father said,"No."

"Build house?"

"No."

"You know how to bandage ulcers, and clean wounds?"

"No."

"How about talking to depressed and traumatised people, to console and counsel them?"

"No."

"Do you know how to dig graves and bury dead people?"

"No. What the heck you are asking me all these, boy?"

"I thought you can go to Aceh as a volunteer."

"What gave you that idea?"

"Riz's dad is going to Aceh this Sunday. Riz is so proud, and Puan Gaskar today told the whole class about it."

"Riz's father is a doctor. Of course he can help. And he's bloody rich. What do you want me to do? Sell insurance to the victims for free?"

"You can help drive some car or something. Or help to carry stuff, give food or something. Mrs. Gaskar says her husband is old but still going to Aceh with the Johor Seniors Association."

"What is he going to do?"

"I dunno. Teach English, maybe."

"Boy, just because orang lain pergi Aceh, your father has to go too. Crazy la you. You think I am so free and so rich, is it?"

"How much you donated?"

"Not yet. This month my sales not so good. Not enough quota. Maybe next month, see how first."

"But Najib says next month cannot give money already."

"Then no need to give la."

End of part 3




| |fooji made noise at the warung at 8:16 PM
---
It was 2:15pm. He tried sleeping. He did sleep. For 2 hours. He tried writing again.

"Guess what'll happen if I married that Italian girl instead of leaving her?" Tay asked his nephew.

"Probably she will be breastfeeding your seventh daughter right now here, and I can have a look." The nephew answered, while admiring his own face in the mirror.

"Dirty fella. She's coming for a visit next weekend. Will you be around?"

"Meeting Ching. We're going to Chow Kit, some friends wanna do some charity."

"You still with her? Come on, this kind of girl is not suitable for you. You ever smoke in front of her?"

"She doesn't know I still smoke."

"That's my point exactly. You are acting like some good, charitable boy. Which you are not. Don't waste her time."

"Oh, and you are not wasting Vera's time la?"

"She is going back to Bangalore next Thursday. No much of her time I can waste. Anyway."

"Ha, I thought both of you are going to get married."

"Marry? If I want to marry, I'd marry that Italian woman."

"Oh yeah, and I'd be seeing her swollen breasts giving milk to your kid."

"Dirty fella."

End of part 2

| |fooji made noise at the warung at 8:04 PM
---
It was 11pm. He forgot the appointment with the associate professor. It was raining but it was still so hot. The fridge was not working. "Nevermind," he thought, and went on to write this:-

"This is the first time," Ram said, pushing the cup of Horlicks aside, and stopped playing with the fish balls.

"....that some girl actually touch me and look at me like that."

"What do you mean first time?" Tine asked.

"Crap, I am 27, and no girls ever wanted me like that, got me?"

"Is it important, to be wanted by another person? But then again, don't tell me your parents don't want you."

"Yeah, but this is different."

"Yeah, this is sexual."

"Yeah! I am 27, and no girls ever wanted me sexually."

"Is it important to be wanted sexually?"

"You don't think so?"

"I am not sure. I don't want to think so, but I am not sure."

He thought it was crappy and stopped writing. It was still so very hot. "It could be worse,"he thought,"if the bloody fan is not working."

End of part 1


| |fooji made noise at the warung at 6:53 AM
---
Random thoughts before January's gone - Feedback wanted

1. Handheld computer in medicine - is the role of PDA important enough for me to invest in it? If yes, what is the reasonable price?

2. I have got DVDs for Garden State and Closer, both starring my favourite lovely 'Amidala' Natalie Portman. Siapa nak pinjam?

3. AngPow for CNY, should I go hunt for more, or 'cockily' wait for them to come?

4. To family and friends, my house is open for CNY visit from the CNY day 3 onwards. Don't be shy, don't be shy. All you get is chinese tea...and prawn crackers.

| |fooji made noise at the warung at 1:29 AM
---


Monday, January 24, 2005

I bought Malaysian Idol album

Okay, for those who gasped in horror that spend so much ringgits on a local original album - let me explain why:-
1) hey, the local music scene needs some genuine support, like mine
2) I really liked Jac , I voted for her, and the voting needs follow up
3) I thought the album would be damn good

However,

1)it is still 'listenable' la, but I think the album did no justice to dear Jac. Most of the songs are pop songs, which I think is rather too shallow for Jac's talent.

2) The arrangement for 'Gemilang' is disappointing. It is rather old-fashioned, the background singing sounds like my sekolah rendah champion choir team. And the way Jac has to switch back to low tone before the build-up to the chorus, is a bit 'cacat'.

So far the best songs in there is 'Tiada Lagi Indah' and 'Tunggu Sekejap'. The original English songs are unremarkable.

Am I overanalysing, and criticised too much?
By the way, Webber's The Phantom of the Opera was excellent. The music, the songs, the humour and Emmy Rossum. Anyone wants to watch it again with me?

| |fooji made noise at the warung at 9:56 PM
---


Friday, January 21, 2005

Crazy thoughts for the bus ride tomorrow

1) If you got power and money, and got lots of buttons and hitmen,

would you think about assasinating one of our Malaysian politicians? If yes, who?

2) I have to earn money sooner than the houseman paycheck. Do business?

3) Age:23 Asset:None Income:Parent's money Macam mana? Do business?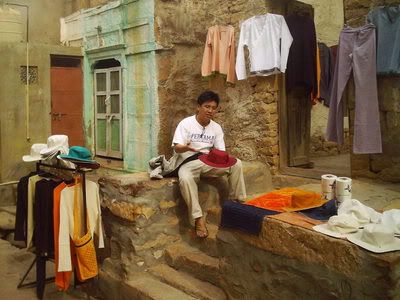 | |fooji made noise at the warung at 6:51 AM
---


Saturday, January 15, 2005

Malaysian malaise palpable in India

I was tempted to feel so proud of my country's development when I see poverty and effects of overpopulation so widely manifested in rural India, where we spent about 80% of our time while in India. Yet, there are certain things, when viewed in comparison, that despite all their shortcomings, that Malaysia should be ashamed about.

1) Medical education
This is debatable, but I think the Indian system of medical education is better. Using CMC Hospital as an example, it has a more reasonable enrolment size(just 60/year), greater teaching power and ability, a more satisfying learning experience and learning culture, and a long-term, comprehensive future expansion plans for teaching and medical services. While back home in UM, banners are unashamedly screaming congratulations because we are supposed to be proud for being placed at 89 amongst all universities in the world (while NUS is in top 20), without much real success and future plans comforting to our restless hearts.

2) Industrious Indians
Huajern made this excellent observation:-'True, most tourist attractions in India are marred by hardsell and dishonesty. However sometimes I wonder if I would do the same if I were in their shoes. 'It wont hurt these rich foreign tourists while it makes such a diiference to my life.'
Indians are working hard. Even the beggars are extra-persistent. However, hardwork does not reward them well because of over-population and unfavourable weather. On the other hand, we are fortunate to be born in Malaysia, a land of natural opportunities and wealth, and yet we have not reached our best potential(unlike our Singaporean neighbours), probably because of laziness, complacency, superficial goals, bad politicians and bad policies.




3) Press freedom
A well-written weekly newsmag like The Week costs only 10 rupees (90sen) and India Today costs 15 rupees. The dailies, although just minimal in content, are reasonably priced at not more than 5 rupess each. But what make them even more valuable than our mainstreams is that I do not need to worry about spins and censorship. The writers do not hesitate to criticise the ruling party, the union ministers, and the chief ministers. During my stay, I have read about the Bangalore chief minister being admonished for traffic problems, the Goan government criticised for wrong priorities, The Tamil Nadu chief minister both applauded and slammed for endorsing the arrest of a high-ranking Hindu priest, et cetera. Meanwhile, at the same time these news are made in India, the Star and NST merely frontlined some boring news about our politicians slamming Thaksin for some unkind, unfair remarks, etc.

4) Honesty, and friendliness
Despite all the rumours about high theft rate, we were never victims of theft in India. Although we did guard our bags, documents and cash like hawks, I feel we should have relaxed more. There was once in Jodhpur, Rajashtan where one our friends left her PDA in the bus that left the bus station. After a fruitless frantic search for the bus in an autorickshaw, the bus returned to the bus station later for a scheduled departure and the driver was holding the PDA, ready to return it to my friend. I wonder if it could still be found if it happened at home.

Of course, in touristic places like Agra we can find lots of dishonest vendors always looking for a cut-throat deal, Indians otherwise are generally honest, helpful and respect guests like us.

5) Politics
From what I read, the BJP was poised for a returning victory at last year's national elections but was surprisingly defeated by Sonia Gandhi's Congress. This was despite a season of good economic growth and growing Hindu nationalism. This surprise election outcome went to show that Indian politics is far more unpredictable and far from dead boredom. I am not preaching for political unstability, but the Indians show that they fully understand democracy, that they dare to change government, and not give full credit to the ruling party for whatever present economic achievements there are. Of course, the current ruling coalition, UPA, led by Gandhi's Congress and headed by PM Dr Manmohan Singh, faced just as much criticism like its predecessor BJP, but it is just part and parcel of a vibrant democracy and free press.

6) Joining the army
We had a total of 5 days' worth of train journey in India. During our trip up north to Agra, we got to make friends with a group of nice young Indian men, in their 20th year of age, who were going to Bhopal for an Indian Navy recruitment interview. They are going to graduate from engineering college soon, and they were trying to be navy engineering officers in the future. They seemed proud to have a chance to join the navy. At another trip, from Agra to Jodhpur, we made friends with another group of young Indian males, and they are officers in the Indian Airforce, returning home for holidays. Again, they spoke of their job with pride. These are handsome, talented, young gentlemen I am talking about. Now, about young, handsome, talented Malaysian males - how many are going to join the army after their college studies?

7) National pride
Despite their poverty and shortcomings, the Indians have great pride for their country. Some may derive it from the great ancient kingdoms, some from the rich culture, some from the wisdom of the vedas and Hinduism, while some are just blindly proud. The distinctive thing is that they do not need to go to school to love India, to tell people how great and beautiful India is. From my conversation with Babloo, a self-taught book reader who sells pirated books at the street of Bombay, and many other people on the train and tourist spots, Indians are not merely proud of their country for their superiority in IT and the natural professions of medicine, law and engineering, they are also proud of their culture, the religion, the history, the great leaders of the past. In Malaysia, the only thing most Malaysians speak with genuine pride is the good food.

*Feedback welcomed
*There are also many aspects that India is lagging years behind, but this article is merely to show what Malaysia is lacking, even when compared to a poorer nation like India.


| |fooji made noise at the warung at 6:26 PM
---


Tuesday, January 11, 2005

To Taj or not to Taj?

"Journal,14/12/04:....Last night was supposed to be peaceful, quiet, nursing my malaise with Orwell's 1984, but the whole issue of 'North or South' was re-opened...pre-travel plans agreement breached...anyway, to cut a long, emotional story short, we're going up North again and......anyway, after just 2 weeks, the Indian experience is already rich enough, whether to Taj or not to Taj,"




The Taj Mahal was beautiful. It was so visually amazing that we spent the whole day in the Taj Mahal park, seeing the symmetrically intricate mausoleum change its colours according to the position of the sun. It was amazing.

But is India all about the Taj Mahal? Would we be considered fools for having come to India, and not see the wonder of the world?

Our magnetized attraction to this erection of love, in my humble opinion, was initially based on superficial appreciation of beauty, just like many other tourists who visited the Taj Mahal. All of us have very shallow knowledge of the history behind this building (all we know is that the crazy maharaja built it for his dead queen), the plight and pride of the Mughals and the people, the myths and legends associated with it and the amazing architectural facts and figures of the Taj Mahal. Perhaps all these are not as important as our basic inner desire for visual feasting of great big beautiful buildings.

Do not get me wrong, going to see the Taj Mahal, while it may seemed to be an over-rated touristic activity, is still a recommended thing to do in India. However, I would disagree that it is a 'must-go' in India. There are so many places and so many things in India, that if we want to start labelling 'must go' to certain places, one would have to spend more than half a year to properly experience all of it. And lots of cash too.

The Taj Mahal had featured prominently in our group that went to India. It had featured prominently in our travel plans, travel arguments, train booking, and travel finance and travel health. The Taj Mahal, in my opinion, is badly located. It is located in Agra, in the state of Uttar Pradesh, about 4 hours drive from New Delhi.

Because it is so high up in the north, we have so abandon all destinations that could be possible in Tamil Nadu and Kerala (which was the issue of our travel arguments), and spend less time in Bombay and Goa. Because it is so far from our other destinations, it caused us to be on the train for more than 48 hours, just to see that marble wonder. And because the people there are too dependent on touristic magnet of the Taj Mahal and other majestic buildings left behind by the Mughals, the people have gotten dishonest and demanding with tourists and the foods are questionable.

Agra, without the Taj Mahal and Fatehpuh Sikri, is definitely a bad place to go to in India.

For future tourists of India, I hope you would be better prepared and wiser if you are faced with the dillemma of "To Taj or not to Taj?" The reason to go should be lesser of visual superficiality and more of genuine interest in India.

Our maiden voyage to India has helped us to discover our own taste and style of travel and tour. Personally, the next time I go to India would not be merely sightseeing, but rather a long vacation in a single destination, engaging in more conversations and social work.


| |fooji made noise at the warung at 8:51 PM
---


Monday, January 10, 2005

Dear friends,

You can get some photos from my recent Indian trip here.

| |fooji made noise at the warung at 10:11 PM
---


Tuesday, January 04, 2005

9th India: Goa at night
(Vellore - Agra - Jodhpur - Jaisalmer - Mumbai - Goa - Chennai)

Dear family and friends,

From the desert place and the magnificent fortresses
and superb hospitality of the Rajasthanis,we have
since been back on the Indian railways again, this
time at the western coastline. We spent a night at
Bombay last night, and it was beautiful, the Fort area
that we were in. The hotel is pretty more expensive
compared to other places, but at least i get nice bed,
and nice hot warm bath. It is really worth it, and the
place is easily likeable, yeah. And I even caught a
Hindia movie, Veer-Zara with Kavetha. They stood for
their national anthem before each movie you know. the
movie was good, but I am tired, and the bad thing is
that there were no subtitles, so I used my common
sense.

From there, we are now in Goa, having a seafood
dinner. do not worry people, this part of the beach
and the the food is safe. On thurday, God willing, we
will return to Chennai, and there the Indian tour will
end.

I am really waiting to come back eagerly. at the same
time, it is nice here in Goa, looking out at the
waterfront at night,.

You know what, I scolded my Bombay taxidriver over
their dishonesty. My tempers were at its worst
yesterday. But I really think the taximen need to be
more civil in their work, especialy when Bombay aims
to be like Singapore.

All right,
signing off now.

In God's hands,
Chee hoe



| |fooji made noise at the warung at 8:09 AM
---