Monday, May 29, 2006

Menteri Dalam Negeri yang juga merupakan Setiausaha Agung UMNO membuat keputusan muktamad untuk mengharamkan filem "Lelaki Komunis Terakhir" kerana filem ini menggambarkan Chin Peng seolah-olah orang yang baik dan bukan seorang pengganas.

Ini tidak boleh diterima walaupun tiada unsur keganasan dalam filem ini.

Tuan-tuan dan puan-puan, selagi lagi kita boleh berbangga dengan daya fikiran yang begitu tajam dan menyeluruh daripada pemimpin kita, khususnya daripada parti UMNO.

| |fooji made noise at the warung at 6:09 PM
---
What? You want to migrate? I thought you love Malaysia?

I love Malaysia,

but I cannot stand UMNO-land.

| |fooji made noise at the warung at 1:34 AM
---


Wednesday, May 24, 2006

Pravin sang this on Bukit Larut(Maxwell Hill), probably even better than Sarah Brightman. Dear friends, this is a good break-up song if you have to do it:-


Tell me on a Sunday
(By Don Black/Andrew L. Webber - Song & Dance)

Don't write a letter when you want to leave
Don't call me at 3 a.m. from a friend's apartment
I'd like to choose how I hear the news
Take me to a park that's covered with trees
Tell me on a Sunday please

Let me down easy
No big song and dance
No long faces, no long looks
No deep conversation
I know the way we should spend that day
Take me to a zoo that's got chimpanzees
Tell me on a Sunday please

Don't want to know who's to blame
It won't help knowing
Don't want to fight day and night
Bad enough you're going

Don't leave in silence with no word at all
Don't get drunk and slam the door
That's no way to end this
I know how I want you to say goodbye
Find a circus ring with a flying trapeze
Tell me on a Sunday please

Don't want to fight day and night
Bad enough you're going
Don't leave in silence with no word at all
Don't get drunk and slam the door
That's no way to end this
I know how I want you to say goodbye

Don't run off in the pouring rain
Don't call me as they call your plane
Take the hurt out of all the pain
Take me to a park that's covered with trees
Tell me on a Sunday please

| |fooji made noise at the warung at 11:32 PM
---


Tuesday, May 23, 2006

Grasshopper: not a poem

Forgive me,
my paranoid past
my lack of faith,
for I thought
I was a grasshopper

I was a grasshopper
I could jump and hop
but I still need to hide

I was a grasshopper
I could jump and hop
but my place is not the top

Grasshoppers are small
easily crushed
even ugly for the world
pest to the leaves

Why would you like a grasshopper?
There are giants here and there
talented, charming, walking tall
fighting for your attention

I thought I was a grasshopper
but I am waking up
Lord be my helper
with His strength
I will work towards my Promised Land

| |fooji made noise at the warung at 8:16 PM
---


Monday, May 15, 2006

Aussie memories (April 12th - May 12th 2006)



_______________________________



| |fooji made noise at the warung at 5:47 PM
---
Should we kill Dan Brown and slap Tom Hanks?

I came back to hometown Ipoh last Saturday after a beautiful month in Australia, and I came back to reality, to daily

routine, and to local expectations.

I came back to the usual political twist-n-turns of the country which reflects stupidity and tunnel vision. I also came back

to friends and family who have personal issues and problems that reminded me how much they need God, how much they need the

Bible, and sadly, I have yet to tell them the Good news.

I am not a no.1 staunch devoted Christian, but I definitely am firm with one thought - that this world is in need of Jesus, in need of the word of God (the Bible).

Ironically, this world is also celebrating literature that casts doubt on Jesus' divinity and the sanctity of the Bible. Da Vinci Code has been crazily at the top of the bestsellers list for months, and soon, people should be talking about the Gospel of Judas, a book that again made the gospel of Matthew, Mark, Luke and John seem to be an incomplete account of Jesus.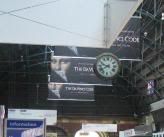 Da Vinci Code the Movie promotional banners all over Sydney Central Station

I know of so many people who have read the Da Vinci Code or trying to read it. Even the 'nerds' in my medical school who hardly have time for fiction have read Dan Brown's masterpiece. And now, whoever is lazy to read, can watch the movie. Those
who are awed by the book will be excited to see the visual interpretation of the book. For a Christian who is convinced of the gospel, Da Vinci Code is definitely a book of blasphemy. Time Magazine has run an article about Opus Dei, the organisation given a villain role by Dan Brown, and the article writer wrote as if only Opus Dei
is affected by this fiction. All Christians, Catholics or Protestants, should feel uneasy about the content of the book.

However, how should we react to this? Should we then hate Dan Brown to the core, and burn effigies of this man, or even set his house on fire? Have the council of bishops to condemn him to death sentence? Wish him go to Hell?

Should we ask the government to ban the movie?

No.

Let the world watch this movie. I have confidence that the Bible, which remains the number 1 literature in the world after so many centuries, will stand firmly untouched by this book of blasphemy. I think that this Da Vinci Code thingy would

regenerate new interest in the Bible, which is good because the world at this time is full of sad stories, full of people who needed the good news in the Bible yet uninterested.

Let the world watch this movie, and ask them for their response. All Christians, equip yourself with knowledge of the Bible, and prepare to answer questions from people after watching the movie or reading the book. This is an opportunity.

The way we react towards Dan Brown and other writers of blasphemous literature also reflects the way we relate to people. As a Christian, I shall not hate this Dan Brown fellow, but love him, and pray for him. I shall not wish him Hell, but for him to be reconciled with God. I shall wish him Jesus.

For the greatest commandment is to love God and to love one another, even your enemies. Let us not be overzealous in defending our faith, and end up being pharisaical.

| |fooji made noise at the warung at 5:02 PM
---


Saturday, May 13, 2006

Tasmania oh Tasmania
sebuah pulau di Australia

Ku mahu hijrah
Ku mahu hijrah ke sana

Patutkah
Ku putus asa
terhadap negara saya?

Sebaik sahaja kupulang
Ku terbaca berita
Berita seperti biasa
Wakil rakyat tak guna
Parti politik derhaka

Perdana menteri alpa
Bekas perdana menteri
buat bising mengada-ada

Oh, apakah negara saya
tiada lagi berguna
apakah harapan sudah tiada

Ku mahu berhijrah

Ke Tasmania
Sebuah pulau di Australia

Sebuah tempat di mana
Kulit bangsaku tidak menjadi masalah

Selagi ku boleh berjasa
Tangan terbuka ku diterima

Ku mahu berhijrah
Ke Tasmania
sebuah pulau di Australia

| |fooji made noise at the warung at 1:50 AM
---


Friday, May 12, 2006

Tauke's 500th post : I am BACK !
actually, not yet la...writing this in Changi.

Coming soon in this blog:

1) Da VinCi Code - Being overzealous and gullible over the issue

2) Australia Highlights - insights, inspirations and comparison

3) About my new CAR !!!!

| |fooji made noise at the warung at 1:27 AM
---


Monday, May 08, 2006

The Tauke is coming back soon

May 12, Friday.

| |fooji made noise at the warung at 9:13 PM
---