Saturday, July 29, 2006

Fooji - Doctor or first-poster?

I think the BM term for our official post - Pegawai Perubatan Siswazah tells alot about our competency.

As new young doctors, in my first posting, I am so not ready to work alone, unsupervised.

I am grateful for my intelligent nurses, good bosses and fellow colleagues.

I have to apologise to my lecturers in UM for not keeping up the good name.

Surviving...............

| |fooji made noise at the warung at 4:26 AM
---


Thursday, July 27, 2006

Dear friends,

Fooji is still doing okay.

After Houseman Culture Shock Syndrome in the first two days, Fooji is learning to enjoy HO life in Taiping Hospital, one of the busiest hospitals in Malaysia.

Working from 6.45 to 11pm everyday during the 'tagging period'.

| |fooji made noise at the warung at 12:46 AM
---


Friday, July 07, 2006

Taiping, here I come!

If being posted to Taiping is God's will, He must be using the ridiculous bureucratic methods in distributing our postings in major hospitals all over the country.

Anyway, I am not going to complain or pursue an appeal anymore. Will settle for Taiping and looking forward to a satisfying year of OBLIGATORY POSTINGs.

Thanks to Mr.Gee(KLGH surgeon), Dr.Huajern, church friends, Ai, and family, and colleagues for your encouraging support and consolation. *smiles*

Here's a glimpse of beautiful Taiping...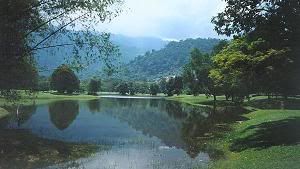 Fooji is a proud member/blogger of Malaysian Medical Resources

| |fooji made noise at the warung at 7:28 PM
---


Wednesday, July 05, 2006

Psalm 25

To you, O LORD, I lift up my soul.

O my God, in you I trust;
do not let me be put to shame;
do not let my enemies exult over me.

Do not let those who wait for you be put to shame;
let them be ashamed who are wantonly treacherous.

Make me to know your ways, O LORD
teach me your paths

Lead me in your truth, and teach me,
for you are the God of my salvation;
for you I wait all day long.

Be mindful of your mercy, O LORD, and of your steadfast love,
for they have been from of old.

Do not remember the sins of my youth or my transgressions;
according to your steadfast love remember me,
for your goodness' sake, O LORD!

Good and upright is the LORD
therefore he instructs sinners in the way.

He leads the humble in what is right,
and teaches the humble his way.

All the paths of the LORD are steadfast love and faithfulness,
for those who keep his covenant and his decrees.

For your name's sake, O LORD,
pardon my guilt, for it is great.

| |fooji made noise at the warung at 2:31 PM
---


Tuesday, July 04, 2006

The tauke overheard the lament of a jaded young man...

I failed
as a son
I failed
as a brother

they're not enlightened
and still burdened

the heart is willing
but the flesh is weak

I failed
as a nephew
I failed
as a friend

they're still needy
I can't stop the timebomb

the heart is willing
but the flesh is weak

I failed
as a servant
I failed
as a man

I allow self-pity
I have no self-control

the heart is willing
but the flesh is weak

I failed
though people may not see
I think I failed
big time...

Take care, jaded young man...

| |fooji made noise at the warung at 9:37 PM
---


Saturday, July 01, 2006

Fooji is going to Taiping

The poslaju man finally came today, after heavy speculation. I was topless, eating nasi kandar with my dad, with a piece of ayam merah in my left hand when i heard the van honked.

I went out, knowing for sure the letter has arrived.

"Dr.Foo..Chee Hoe?"
The topless fooji with a chicken in one hand said , "Yes, that's right".

When I opened the letter, and saw...Anda ditempatkan di HOSPITAL TAIPING... I went speechless for some time, keep re-reading the sentence for many times before announcing to my dad and call my mom, and call my girlfriend, poong, pang, and all that....

It was shocking, and disappointing, because i thought i'll surely get Ipoh since Pam and YKM also got Ipoh, as well as some coursemate of mine who got Ipoh when it is not even their first choice.

More than 6 hours now, feeling better now...and starting to like the decision, though I have prepared so well to stay in my Ipoh home for at least another year...was going to buy TV and DVD player for my room some more...sigh!

Anyway...just to announce that Fooji is going to work in Taiping.
Still debating whether to try appealing to the State Health Department on Monday to transfer to Ipoh.

What u guys think?

| |fooji made noise at the warung at 7:12 AM
---